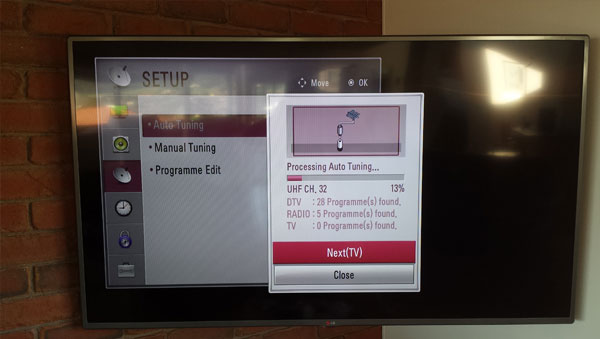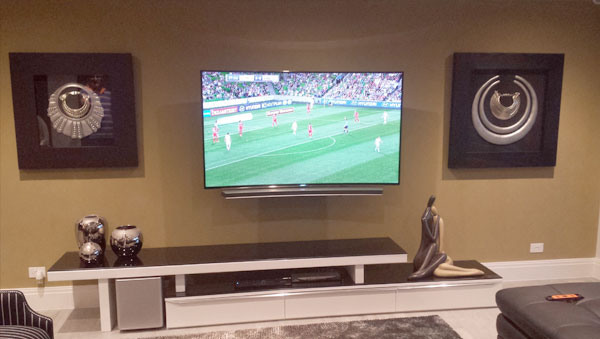 Sharp & Clear Antennas in Melbourne is a specialist in TV wall mounting. For any question or quotations, or to simply book a time, call 1300 804 037 to experience the Sharp & Clear difference.
LCD/Plasma/LED/Curved TV Wall Mount
We provide a variety of fixed, tilt or no tilt and swivel TV wall mounts.
As every TV screen has its own specifications, it's important to choose the right bracket so the TV is mounted safely and properly secured to the wall.
It's important to note when you buy a new TV screen, regardless of the size, that it is factory ready to be wall mounted. Some screens do not have tapped holes at the back and can only be used with a holding bracket.
We can also arrange a fully qualified electrician to install a power point behind your new screen if required.
We customize your TV Wall mount setup the way you want it, inside our outside. We've been doing this for many years now and have developed a reputation for providing quality and accurate advice and installation of all things digital.
We take great pride to see all of our customers happy with our planning and ability to provide the best result possible.
Concealed Cables & Wiring
We can conceal any cables and wiring. If you have HDMI, component, AV composite, ethernet data cables, and USB extensions that connect to your electrical devices like Blu Rays, Foxtel IQ Box, Telstra TV etc, we can conceal them for you.
Call now to experience the Sharp & Clear difference. We are licensed, accredited and dedicated to providing the best advice, installation, service and warranty in the industry.
Don't take our word for it – check out our reviews page. We're confident we can provide the right solution for you!
<a href="https://www.wordofmouth.com.au/certificate/1168505-sharp-and-clear-tv-antennas" rel="nofollow" class="womo-widget-anchor"><div style="margin: 60px 0 0 40px" class="womo-widget-container" data-provider-id="1168505" data-type="review-feed" data-badge-color="colour" data-stars-color="#ff6600" data-background-color="#e8e7e1" data-text-color="#000000" data-review-stars-color="#ff6600" data-review-text-color="#000000" data-width="250px" data-height="232px">Sharp & Clear TV Antennas Reviews</div></a>